FFB RFR Wheel based on Arduino Leonardo
Hi everyone,
I created this topic to describe my FFB Wheel based on Arduino Leonardo, IONI + Cube1x + Mige 130ST-M10010.
Summary :
- Internal refresh rate of 500 Hz
- Wheel position has 16 bits precision, and there is one additionnal input in 16 bits (for a Load Cell eg) + 2 other 12 bits inputs (for the accelerator and the clutch for example) + 32 buttons.
- A total of 12-15 inputs, with 9 to 11 of them being analog (depending on configuration).
- HX711 chip support, to connect load cells.
- Ability to set nonlinear functions on the inputs (exponent function type) -> useful for a brake pedal with progressive hardness for example.
- Supported effects (for now): Friction, Spring, Damper, Sine, Constant power, Ramp, Square, Triangle, SawtoothUp, SawtoothDown, Inertia
- 4 PWM mode supported: Single PWM (zero setpoint -> 50% duty ratio), PWM + Dir, two PWM signals +/- (for AMC drives for examples), and Ultrasonic PWM for H-bridges (like VNH5019).
- Possibility to adjust the frequency of the PWM (8 KHz PWM modes for simple, PWM + Dir, PWM +/- 20 KHz for the bridge control H)
- Ability to set the PPR of your motor if you use a quadratic encoder.
- Possibility to add several user effects, that are added on top of the game effects.
- Profile management settings, with the option of auto-detecting of the game.
First some pictures:
The steering wheel
The shield that I've build to connect the load cell and IONI
The Wii Balance Load Cell
Shopping list :
-
Arduino Leonardo
-
IONICube + 1x IONI pro kit
-
48V 600W Power supply
-
24V 100W Power supply
-
Mige 130ST-M10010 Motor
-
300 mm Wheel
-
Power Resistors
-
Male + Female DB15 connectors
with their
covers
-
8200 uF 80V Capacitor
-
Power switching diode
-
HE10F20 Female Connectors
-
Cables to connect the motor and the encoder to the IONI
- Option:
HX711 load cell shield
+
WiiBalance
to get 4 quality load cells for 15 €.
Note for the yourduino
HX711 load cell shield
, to have 80 SPS (samples per second) instead of 10 SPS, you must unsolder the pin 15 of the chip (RATE) which is welded to the ground, and connect to 5V (pin 16). There is a
similar shield at Sparkfun
, or
another one here
, with just a bridge to solder instead, but I haven't tried them yet.
If you want to connect multiple buttons on a single analog input, use the following wiring (I called it the
BoDAC
) :
Other buttons multiplexing solutions will be proposed later.
The IONI settings are "classic" except "Bandwidth Limit Torque" that I've put to 100 Hz: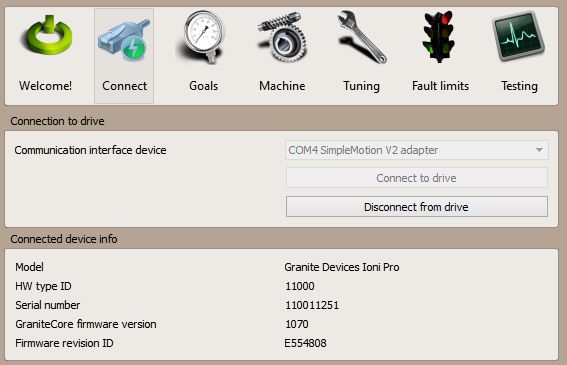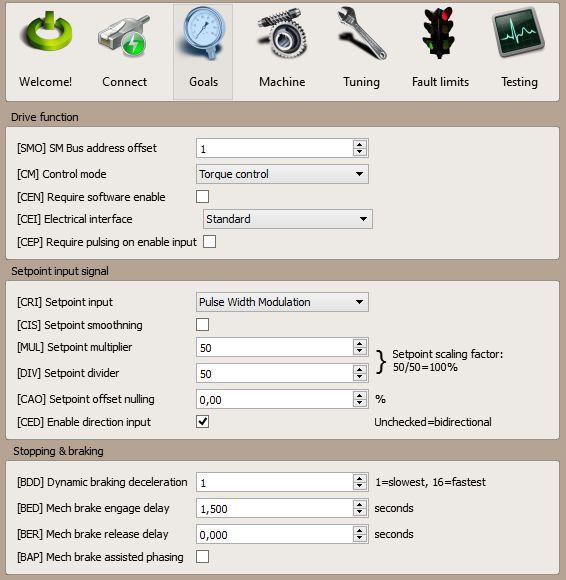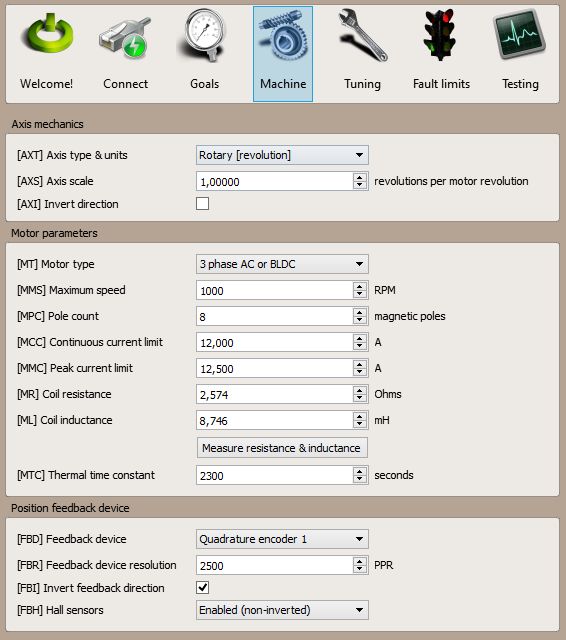 It is absolutely necessary to update the IONI firmware because the PWM + Dir function was no longer working in the latest versions. It is here:
http://granitedevices.com/wiki/IONI_firmware_releases
The IONI firmware I used is 1.2.3.
The configuration software can be downloaded here:
http://www.aiwave.fr/wc_updates/1033/WheelConfig_0.18.exe
Mini tutorial:
Primarily Install the latest version of the Arduino IDE:
https://www.arduino.cc/en/Main/Software#
You'll need it to install the drivers of the Leonardo.
Instructions for installing the drivers are here:
https://www.arduino.cc/en/Guide/ArduinoLeon...oLeonardo#toc10
Once the drivers are correctly installed, you can continue.
1 ) Connect your Arduino Leonardo. No need to install a sketch, it may be blank.
2 ) Disconnect the cable connected to your wheel if you have one (in case you do not have wired the encoder or the motor phases in the same order as me).
3 ) Install the app. On Windows 8 (and possibly in other versions) it must be installed as administrator (right click on the exe -> execute as administrator). It is best not to install in the "Program files", but rather in a folder that does not have safety problems for Windows (Windows 8 creates a "Virtual Store" folder if the program tries to write in it, eg for a config file).
4 ) Then at the end of the installation, leave "Run WheelConfig" checked , it will launch the app (watch out, the window can be hidden, I did not manage to put it in front yet).
5 ) Choose the serial port that is connected to your Arduino Leonardo.
6 ) Click "Check Now".
7 ) If you have a connection alert on your firewall, allow the connection.
8 ) It should tell you that there is a firmware update available, click "Yes".
9 ) The Leonardo should automatically be detected and the firmware should be installed.
10) If the steering wheel does not calibrate properly and goes into infinite rotation, select "Invert" under "Wheel".
11) At this stage is should calibrate the steering wheel and seek the index. The Leonardo LED blinks at different frequencies depending on the status.
12) Put the "Main Gain" slider at zero, center your steering wheel and click on "Wheel Center". Reput "Main Gain" at 100%
13) Set the "Max angle" as you wish.
14) By clicking on "Advanced Settings", you can configure specific parameters for your drive, input pins mappings and external gain adjustment.
15) If you want to adjust the gain with an external potentiometer, connect the pin on the Leonardo A5 (or the pin you selected in the previous step). If not, set the pin "External Gain" to "None" in "Advanced Settings".
16) If you want to play with the dev version, there is a shortcut in the start menu.
Glossary
- Main Gain: Master Gain, acts on all effects simultaneously, including desktop, but not the steering stops
- Spring Effect spring: brings the wheel to a position as if a spring was attached.
- Friction: simulates a static friction, eg when trying to drag a heavy object over a surface that does not slip too much, you must push a certain minimum force before the object moves. Then once it moves, friction is limited (to some extent).
- Damper: Simulates a damper. Opposes the speed. The more quickly the wheel turns, the more it tries to slow it down.
- Inertia: simulates the inertia due to the mass of the wheel (and wheel train, etc ...). "adds weight to the wheel." A greater force will be needed to move or stop the wheel.
- Constant: it in fact it is a direct torque control on the steering wheel. This is used by some games to directly drive the wheel or to emulate some effects, and also for shocks.
- Sine: This setting affects all periodic effects (sine, ramp, square, triangle, sawtooth). Mostly used for vibration (engine, bumpers, etc.). Sometimes used for something else.
- Strength Table: not implemented yet, but it's the equivalent of an audio sample. To generate vibrations a little richer than the sinuses, but until now a lot of wheels did not support this effect.
Here's a screenshot of the dev release: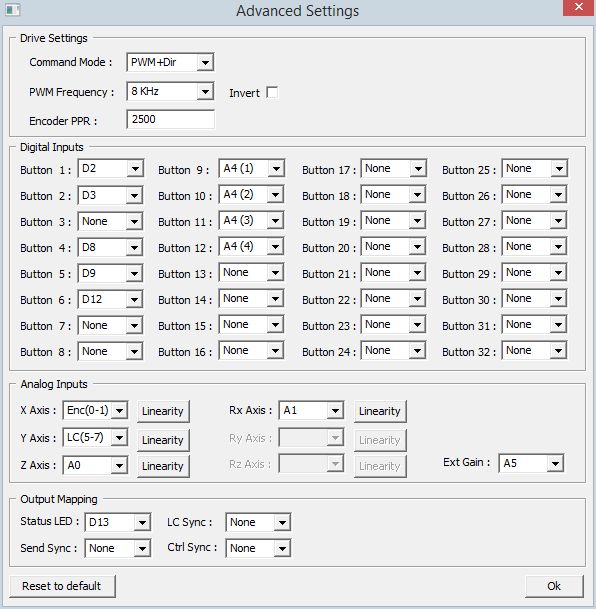 What remains to be done :
Hardware: put it all in a box with clean connectors and everything. Make a plate for buttons and palettes. Mount the wheel on one of my motion simulators ...
Software:
- Implement the "Custom Force" (strengths table) effect which is the only one missing.
- Implement saturation parameter for effects.
- Make a driver on Windows to optimize information transfer FFB and improve system responsiveness.
- ADC Calibration
- Management of conventional buttons assemblies on analog inputs
- BODAC and conventional assemblies Configuration / Calibration
- French translation (and eventually German
)
- H Box Management with potentiometers
- Buttons matrices Management
- Management of multiplexing circuits in SPI or I2C for buttons
- Management of LED displays and touch screens for telemetry and / or configuration
- Management of
Fanatec
wheel
- and many other things...
Preview video (sorry it's in French):
Zuletzt bearbeitet: